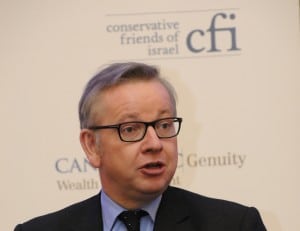 Rt. Hon. Michael Gove MP today described anti-Semitism as a "virus which mutates", likening the so-called Boycott, Divestment and Sanctions movement against Israel with historic attacks on Jews and condemning those who oppose Israel while failing to condemn injustice elsewhere.
In an address to the Inter-parliamentary Coalition for Combating Anti-Semitism Conference in Berlin, the Secretary of State for Justice said that "after horrors that should have meant this hatred was banished forever from human hearts – anti-Semitism is resurgent".
Mr Gove told parliamentarians gathered: "In the last year Jewish citizens of European nations have been targeted by fanatics simply because of their identity. They were slaughtered because they shopped in a kosher supermarket, or volunteered to protect a synagogue".
He said that anti-Semitism today "targets the collective identity of the Jewish people", with synagogues and Jewish schools needing security guards for protection.
The Member of Parliament for Surrey Heath referred to "the most important expression of collective Jewish identity, the state of Israel" which is faced with "a campaign of prejudice against its very existence".
He condemned the BDS movement which "claims to draw inspiration from the struggle against apartheid", declaring this an "offensive" comparison to the state of Israel.
"Israel is a democracy in which all citizens are equal: whether Jewish, Arab, Christian, Muslim, of Ethiopian heritage, Bedouin and Druze – all have the same votes and rights, which is why Arab Muslim politicians sit in the Knesset and a distinguished Arab lawyer sits on Israel's Supreme Court", he said.
Mr Gove emphasised the anti-Semitic undertones of the BDS movement, stating that the campaign "indulges prejudice rather than fighting it… It calls for the shunning of Jewish academics, the boycott of Jewish goods, the de-legitimisation of Jewish commerce". He said that "we have seen these all before, and we know where it takes us".
He underlined: "Modern anti-Semitism finds a home in far too many hearts. There are those on the radical left whose purported sympathy for Arab suffering never results in campaigning against Middle East autocrats, but always in opposition to Israel".
He also addressed far-right extremism, noting that there are those "whose dark prejudices have never been extinguished and who now use opposition to globalisation to revive old anti-Semitic tropes".
The Justice Secretary said that "we need to stand against them all" – including Islamist extremists who seek to "undermine what they see as the Zionist-crusader state and rail against Jewish influence everywhere".
He concluded by referring to the new guidance published by the Government stopping local authorities and public bodies from adopting BDS policies against Israel; "they cannot use public resources to discriminate against Jewish people, Jewish goods and a Jewish state".
In his closing lines, Mr Gove quoted the Prime Minister who has vowed: "We will fight anti-Semitism with everything we have got… Together, we will make sure Britain remains a country that Jewish people are proud to call home – today, tomorrow and for every generation to come".