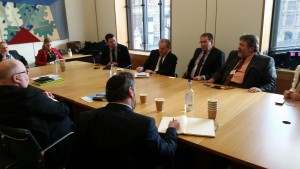 Conservative MPs were briefed yesterday in Parliament by a panel of leading Israeli high-tech innovators in a CFI event chaired by Parliamentary Vice-Chairman Guto Bebb MP.
Among MPs to attend were CFI's Parliamentary Chairman Rt. Hon. Sir Eric Pickles MP, CFI's Parliamentary Vice-Chairman Andrew Percy MP and Mary Robinson MP. Also in attendance was CFI's Honorary President, the Lord Polak CBE.
Attendees engaged in lively discussion about the future of UK-Israeli high-tech partnerships following individual addresses from the three panellists: Jon Medved, founder and CEO of OurCrowd, a global equity crowdfunding platform; Mor Assia, co-founder of iAngels; and Yaacov Michlin, Yissum's President and Chief Executive Officer since 2009.
Strong links in the fields of science and technology have been spearheaded by schemes such as the UK-Israel Tech Hub; Britain Israel Research and Academic Exchange (BIRAX); and a top-level UK-Israel Life Sciences Council, bringing Israeli and British scientists together for joint research projects.
Israel's Teva Pharmaceutical Industries provides the NHS with one in six of its prescription medicines, making it the NHS's largest supplier of generic drugs.
Medved, described as "one of Israel's leading high tech venture capitalists" by the Washington Post, informed Conservative MPs about Israel's rapidly growing high-tech sector.
He referred to the 4% growth in Israel's GDP over the past year in this sector as well as the rapid population growth in Israel; around 160,000 Israelis are born every year (2% population growth).
Mor Assia emphasised the importance of forging further relationships between British and Israeli investors and high-tech companies, with crowdfunding platforms playing a key part in this.
She noted the rapidly increasing investment in Israeli companies from investors in Asia, particularly in China, and the impact this has had in advancing Israeli innovation.
Yaacov Michlin also spoke of the importance of technology collaborations and expressed his desire for more Israeli companies to benefit from the UK market, with many already doing so.
In a discussion about potential opportunities in the UK for Israeli companies, Mary Robinson MP suggested that they should consider broadening their sights away from London and instead look into potential business in Manchester and the 'northern powerhouse', where possibilities are extensive.
Guto Bebb MP closed the briefing by stating that the UK is "an open-door, flexible free trade economy" and encouraging Israeli companies to take advantage of the opportunities in the British market.