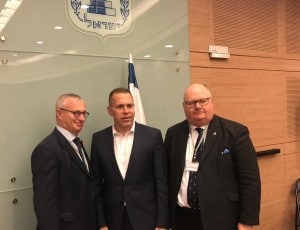 CFI Parliamentary Chairman (Lords) Rt. Hon. Lord Pickles and CFI Honorary President Lord Polak CBE visited Israel this week, where they attended the third annual London Stock Exchange Capital Markets Conference and met with Israeli officials.
Speaking at the Conference, Lord Pickles said: "I firmly believe Israel has the possibility of transforming this region. Israel with the UK has the possibility of transforming the world".
During the visit the peers met with Minister for Public Security, Strategic Affairs and Minister of Information, Gilad Erdan MK, Minister for Regional Cooperation, Tzachi Hanegbi MK, as well as Chair of the Knesset Israel-UK Friendship Group, Hilik Bar MK, and Yesh Atid leader Yair Lapid.
Lord Pickles and Lord Polak also appeared on Israeli TV channel i24NEWs, where they condemned Hamas's "indiscriminate" rocket attacks on Israelis this week and hailed the future of the UK-Israel partnership. Watch the interview here.