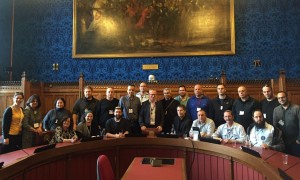 Yesterday in Parliament, Lord Polak CBE addressed a group of leaders as part of the Gesher Leadership Course.
The group explained that during the six-month long course, leaders from different sectors in Israeli society come together to deepen their understanding of one another.
Participants travel abroad for six days, hearing from and interacting with influential leaders around the world.
Lord Polak welcomed the group to Parliament, accompanying them on a guided tour of the Palace of Westminster and briefing them on CFI's work.
CFI's Honorary President briefed the group about his time as the Director of CFI for over 26 years, and about his new role as a Peer in the House of Lords.
Participants asked Lord Polak about the influence of the so-called 'Boycott, Divestment and Sanctions' movement in the UK – Lord Polak assured them that the British Government opposes boycotts and any attempts to delegitimise the Jewish state.
Also in attendance was CFI's Executive Director, James Gurd.