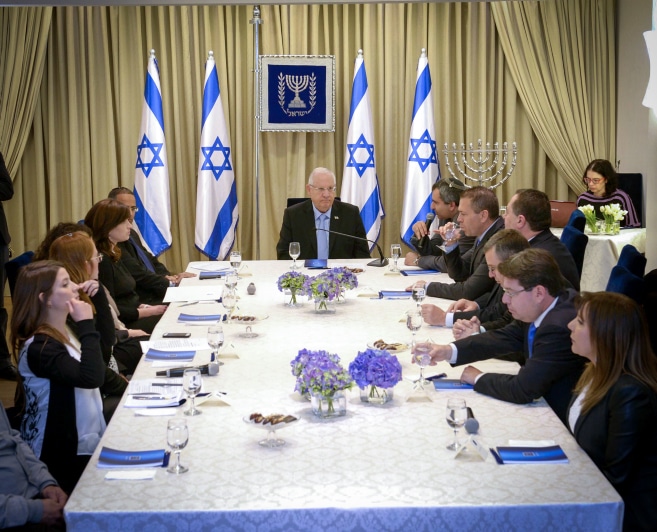 Following last Tuesday's election results, the majority of Israeli MKs (Knesset Members) have recommended Likud party leader Benjamin Netanyahu to continue his role as Prime Minister of Israel.
In the next stage of the formation of a new Israeli government, President Reuven Rivlin has held separate meetings today and yesterday with each party that will be represented in the new Knesset. Following the meetings President Rivlin is expected to appoint Netanyahu to the task of forming a coalition.  Serious coalition negotiations between the parties are expected to begin on Wednesday, and Netanyahu will have four weeks to form his government, with an option to extend talks for another two.
Former Likud member Moshe Kahlon's Kulanu party and Foreign Minister Avigdor Liberman's Yisrael Beytenu party on Monday recommended that President Reuven Rivlin choose Benjamin Netanyahu as the next Prime Minister, giving Netanyahu the requisite majority of 67 MKs.
The elected members of Yair Lapid's Yesh Atid party told President Rivlin earlier that it would not recommend anyone for the premiership and that the centrist faction would sit in the opposition.
The centre-left Zionist Union part, left-wing Meretz, centrist Yesh Atid,  and the Joint (Arab) List, are expected to sit in the opposition.
On Sunday, Rivlin met with the Likud, Zionist Union, Joint List, Jewish Home, Shas, and United Torah Judaism parties, urging party members to form a broad, inclusive coalition able to withstand growing international pressure on the Jewish state.
Of 88 MKs representing the first group to meet with President Rivlin on Sunday, a total of 51 nominated Netanyahu to lead the government.
The Zionist Union and the Joint List were the only two parties not to nominate Netanyahu on Sunday, with the Zionist Union's 24 members nominating party leader Isaac Herzog center-left party and the Joint (Arab) List (13 seats) opting to not nominate anyone, due to its rejection of Zionist parties.
Benjamin Netanyahu defied expectations last week to win Israel's general election resoundingly , securing 30 seats compared to the Zionist Union's 24 seats of the 120-member Knesset.
The final election results showed right-wing Likud leading with 30 seats, centre-left Zionist Union with 24 seats, the Joint (Arab) List came third with 14 seats, centrist Yesh Atid on 11 seats, centrist Kulanu on 10 seats, and the right-wing Jewish Home on 8 seats.