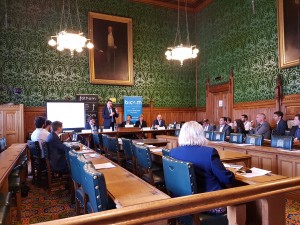 New research has concluded that Israeli-Palestinian coexistence projects lead to "significant attitude changes", based on 20 years of evaluation data and extensive field work.
The report, commissioned by the Britain Israel Communications and Research Centre (BICOM), found that on average, more than 80% of participants in peacebuilding initiatives said they trusted the other community more.
The report has recommended that the international community significantly increases its funding of peaceful coexistence projects, and urges the UK to join an International Fund for Israeli-Palestinian Peace, drawing parallels with the successful model of the International Fund for Ireland (IFI).
Endorsements for the report are wide-ranging, including from Israeli and Palestinian politicians.
At yesterday's launch of the report in Parliament, former Communities and Local Government Minister Andrew Percy reflected on his own experience of coexistence projects while visiting Israel with CFI.
He referred to the work of Save a Child's Heart (SACH), an Israeli charity bringing Israelis and Palestinians together through its work providing life-saving cardiac treatment for children in developing countries – the majority of over 4000 children treated are from Gaza and the West Bank.
Another project praised by Mr Percy was Middle East Entrepreneurs of Tomorrow (MEET), a "positive and optimistic" initiative that has brought together hundreds of Palestinians and Israelis through technology and entrepreneurship.
The Conservative MP for Brigg and Goole underlined his support for the report's recommendations, confirming that International Development Secretary Rt. Hon. Priti Patel MP is "personally committed" to peacebuilding between Israelis and Palestinians.
Mr Percy made clear, however, that we "won't get the maximum return on our coexistence investment" if "division and hate is reinforced" within Palestinian society.
He said that it is very hard for the Palestinians to argue that they support coexistence while the Palestinian Authority (PA) continues to pay the salaries of terrorists – last year spending £254 million on the practice.
Expressing his surprise that a PLO official had endorsed the BICOM report, the Conservative MP said that there are barriers "on both sides of the debate", in both Israel and amongst the Palestinians.
Mr Percy concluded by referencing recent polling which shows that less than half of Palestinians favour a two-state solution, a 4% decrease than last year when 51% of Palestinians supported a two-state solution.
This statistic, Mr Percy said, shows how urgent the need for coexistence funding is, "now more than ever before".
Read the full BICOM report here.