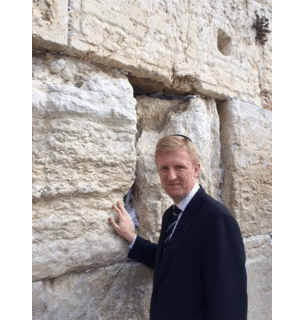 Oliver Dowden, Conservative parliamentary candidate for Hertsmere and senior adviser to Prime Minister David Cameron, visited Israel in November 2014.
The visit coincided with that of Minister for the Cabinet Office, Rt. Hon. Francis Maude MP, whose schedule was focused on enhancing UK-Israel cooperation on Digital Government and Cyber Security.
At a visit to the Har Dov synagogue in Jerusalem, the site of a deadly terror attack against worshippers two weeks prior, Minister Maude and Oliver Dowden PPC paid their respects to the five victims.
During the visit, Minister Maude and Oliver met senior Israeli officials and local start-ups in cyber security, digital solution and open government platforms, learning how the UK might best collaborate with them, in a roundtable discussion organised by the UK Israel Tech Hub.
Oliver's personalised itinerary included a visit to Sderot, a town in southern Israel near the Gaza border that has been the target of several thousand Hamas rockets.
The Conservative PPC also received a tour of Israel's security barrier in Jerusalem with Dany Tirza, the architect who led its construction, in addition to a tour of the Old City.