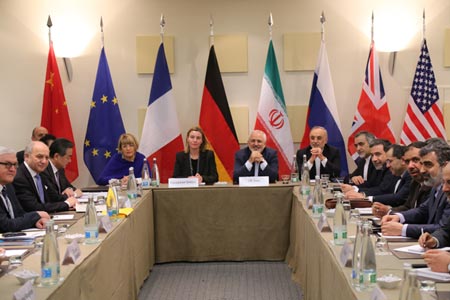 Nuclear talks between Iran and the P5+1 have entered their second day beyond their original deadline in Lausanne, Switzerland.
The marathon negotiations – the culmination of a 12-year process – have continued today with no sign of a major breakthrough following late-night discussions to reach a political understanding on an interim 'framework' nuclear deal.
There were differing accounts of the extent of progress, with Iran's Foreign Minister Mohamad Javad Zarif calling it "significant" but a Western official describing it as "limited".
U.S. Secretary of State John Kerry and German Foreign Minister Frank-Walter Steinmeier have said they would stay at least until Thursday in an effort to seal the "political" agreement, a milestone towards a final pact due by the end of June.
In an apparent act of brinkmanship, the White House has stated that it is willing to walk away if the sides couldn't agree on a preliminary framework, with spokesman Josh Earnest claiming "the time has come for Iran to make some decisions".
Reports indicate that a deal is close, although Iran continues to balk at the concessions needed to bridge the remaining gaps between the two sides.
One of the major points of disagreement concerns the lifting of UN sanctions and how they would be re-imposed if Iran breached the agreement. Iran wants immediate sanctions relief after any agreement, while the USA and EU countries prefer a gradual lifting of sanctions based on Iranian compliance in meeting its obligations.
Iran is also reportedly now refusing to export its large stocks of enriched uranium (around 8 tonnes) abroad to Russia – a critical element of a proposed nuclear deal and a key confidence building measure. Iran had previously expressed a willingness to ship its enriched uranium to Russia in return for nuclear fuel rods, which generate electricity in a power plant but would be extremely difficult to be used to make a nuclear weapon. Iran's Deputy Foreign Minister made the surprise announcement less than 48 hours before the deadline for a framework agreement.
It remains unclear what kind of accord would even emerge from this round of talks. Iran's Supreme Leader Ayatollah Khamenei has resisted any kind of formal written framework agreement at this stage in the negotiations, preferring a more general statement of 'understanding' followed by a final accord in June.
The reported terms of a framework agreement have drawn widespread criticism as they make major concessions to Iran and include a series of worrying loopholes, including a failure to require Iran to reveal its past "weaponisation" activities (the final stage of assembling a bomb).
Israel's Intelligence Minister Yuval Steinitz said today that all options including military action were on the table in the face of the threat of a nuclear-armed Iran. Steinitz said Israel would seek to counter any threat through diplomacy and intelligence but "if we have no choice we have no choice…the military option is on the table". The Intelligence Minister asserted: "The prime minister has said clearly that Israel will not allow Iran to become a nuclear power".
Global powers want Iran to scale down its nuclear program to extend the "breakout" time needed to assemble enough nuclear material to make a bomb, which Iran has always denied seeking. The aim is to turn a 'framework' agreement into a comprehensive accord backed by specific technical commitments by June 30 when an interim deal struck in November 2013 expires.