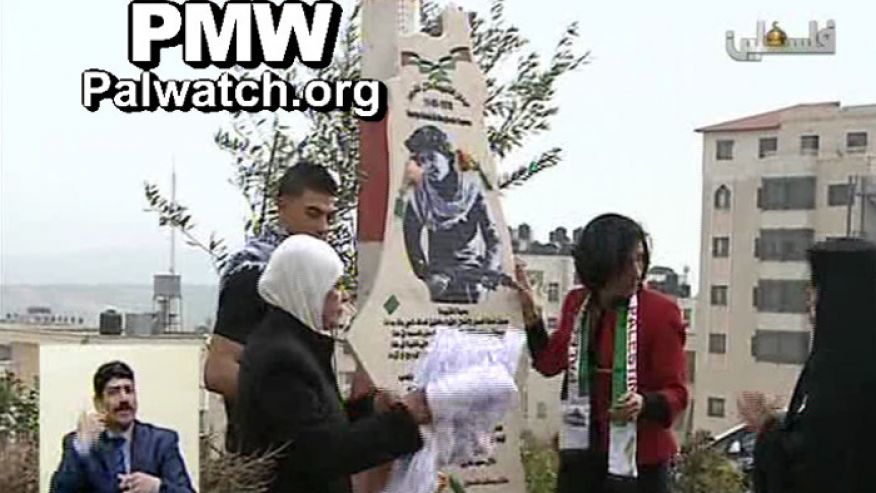 The Palestinian Authority last week celebrated the anniversary of the deadliest terror attack in Israeli history, in which 38 Israeli civilians were murdered, by dedicating a monument in a Ramallah square to the terrorist Dalal Mughrabi.
Dalal Mughrabi was the leader of the bus hijacking attack, known in Israel as the Coastal Road Massacre, in which 38 Israeli civilians, including 13 children, were killed and 71 were wounded.
The monument, located in Ramallah's Mughrabi Square, is in the shape of a map of Israel and the Palestinian territories (with all land depicted as Palestine), with the image of Dalal Mughrabi placed at the centre of it.
PA TV News broadcast footage from the event, in which a cleric glorifies Mughrabi as a role model: "Dalal, God bless her, this female Martyr, she taught us how we can liberate the homeland… We all see her as a model and as a symbol for us."
Dalal Mughrabi is frequently hailed as a heroine and a martyr by the Palestinian Authority, widely portrayed as a fighter who sacrificed herself for the "liberation" of Palestine.
In March 1978, a group of 11 Fatah terrorists sailed from Lebanon and landed on a beach between Haifa and Tel Aviv. They killed an American photojournalist, hijacked a bus on Israel's Coastal Highway and commandeered another. Confronted by the Israeli army, the terrorists embarked on a bloody rampage, killing 38 civilians on the bus, 13 of them children.
The attack was planned by Fatah co-founder Abu Jihad (Khalil Ibrahim al-Wazir), and carried out by 11 operatives of the PLO faction Fatah.