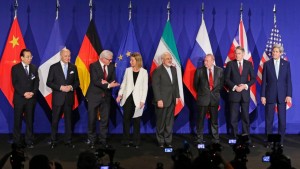 The P5+1 and Iran agreed to the parameters of a deal for Iran's nuclear programme last night, as marathon negotiations in Lausanne extend two days beyond their initial deadline.
The negotiating parties laid out what amounted to goals for a deal by the end of June that would place constraints and controls on Iran's nuclear work for up to 25 years, with strict limits for the first decade.
The parameters include details on enrichment, verification and sanctions. Significantly, important implementation details are still subject to negotiation, and nothing is agreed until everything is agreed.
Some of the main points of the agreement include:
– Iran reducing by two thirds its installed centrifuges, down to approximately 6000, all of which will be IR-1s, Iran's first generation centrifuge.
– Iran's breakout timeline – the time that it would take for Iran to acquire enough fissile material for one weapon – will be extended to at least one year, for a duration of at least ten years.
– No uranium will be enriched at Fordow for a period of 15 years and the facility will be turned into a nuclear, physics, technology, research centre.
– For ten years Natanz will be the only facility in which Iran can enrich uranium, under the guidelines of the agreement, and only with IR-1 centrifuges.
– The IAEA will have regular access to all of Iran's nuclear facilities, including to Iran's enrichment facility at Natanz and its former enrichment facility at Fordow, and including the use of the most up-to-date, modern monitoring technologies. They will also have access to the supply chain that supports Iran's nuclear power, uranium mines and mills as well as centrifuge and enrichment infrastructure.
– The Arak heavy water reactor will be re-designed and re-built and Iran will not build any more heavy water reactors for a period of 15 years.
– Iran will receive sanctions relief, if it verifiably abides by its commitments. This will include the suspension of U.S. and E.U. nuclear-related sanctions after the IAEA has verified that Iran has taken all of its key nuclear-related steps. If at any time Iran fails to fulfil its commitments, these sanctions will snap back into place.
– All past UN Security Council resolutions will be lifted but core provisions in the UN Security Council resolutions — those that deal with transfers of sensitive technologies and activities — will be re-established by a new UN Security Council resolution that will endorse the JCPOA and urge its full implementation.
Click here to read the full agreement.
Despite the announcement, several key points remain unclear, including the terms covering the lifting of sanctions currently enforced on Iran. One unanswered question was when exactly sanctions would be eased, and the other was how quickly Iran would be able to scale up its nuclear activities after the first decade. These two issues were reportedly major sticking points in the final days of negotiations and the specifics are unlikely to be clarified ahead of the deadline for a final agreement in late June.
The parameters were strongly criticised by Israel's Prime Minister Benjamin Netanyahu who told U.S. President Barack Obama that "A deal based on this framework would threaten the survival of Israel. Just two days ago, Iran said that 'the destruction of Israel is nonnegotiable', and in these fateful days Iran is accelerating the arming of its terror proxies to attack Israel".
The Israeli Prime Minister warned that the deal would "legitimise Iran's nuclear programme, bolster Iran's economy, and increase Iran's aggression and terror throughout the Middle East and beyond".
Mr Netanyahu added: "Such a deal would not block Iran's path to the bomb. It would pave it. It would increase the risks of nuclear proliferation in the region and the risks of a horrific war. The alternative is standing firm and increasing the pressure on Iran until a better deal is achieved".
Intelligence Minister Yuval Steinitz, who oversees the monitoring of the nuclear programme, said the deal was "disconnected from the sad reality" of the region. Minister Steinitz asserted that the deal was far from final and Israel would continue to speak out against what it perceives as "bad" terms: "Since the declaration is far from being a real agreement, we will continue in our efforts to explain and persuade the world in the hope of preventing a bad agreement, or at least to insert corrections and improvements".
Israel has long argued that the emerging deal does not have the necessary safeguards and will pave the way to Iran getting a nuclear weapon.
Prime Minister Netanyahu has stated that he is not opposed to a diplomatic solution in principle, but rather this deal as it has been taking shape.
Israeli officials have expressed concern that the agreement will merely provide Iran's nuclear programme with international legitimacy; ensuring the removal of sanctions while assuring that Iran will keep its nuclear capabilities.
One Israeli official, speaking on condition of anonymity, said that "Iran will still have extensive nuclear capabilities. It will continue to enrich uranium. It will continue its centrifuge research and development. It will not close even one of its nuclear facilities, including the underground facility at Fordo…This is a bad framework that will lead to a bad and dangerous deal. If an agreement is reached based on the guidelines of this framework, that would be a historic mistake that will transform the world into a much more dangerous place."
Meanwhile, President Obama hailed it as a "historic understanding, and added that he was "convinced that if this framework leads to a final, comprehensive deal, it will make our country, our allies, and our world safer."
Mr. Obama reportedly told Prime Minister Netanyahu that the deal "in no way diminishes our concerns with respect to Iran's sponsorship of terrorism and threats towards Israel and emphasised that the United States remains steadfast in our commitment to the security of Israel".
Following Thursday's announcement, Iran and the world powers are expected to work out the details of a final deal by the end of June.