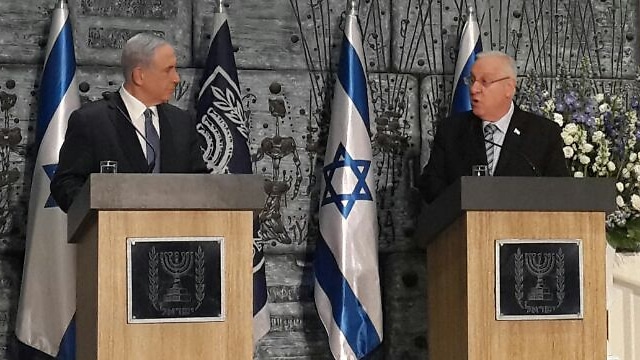 Upon his formal appointment by President Reuven Rivlin to form a new Israeli government on Tuesday, Prime Minister Benjamin Netanyahu reiterated his commitment to the peace process, underlining: "Our hand is extended in peace to our Palestinian neighbours".
Netanyahu added: "The people of Israel know that real peace, that our entire future, will only be secured if Israel remains strong".
Speaking at the President's Residence, he further underlined that Israel would do everything it its power to prevent a bad nuclear deal between Iran and the P5+1 being made, stating that the emerging deal was "an agreement that endangers us, our neighbours and the world".
Last week, Prime Minister Netanyahu affirmed his support for a two-state solution in the Middle East, stating in his first post-election interview to NBC: "I don't want a one-state solution. I want a sustainable, peaceful two-state solution".
In yesterday's ceremony at his Presidential Residence, President Rivlin urged Netanyahu to pursue three priorities: restoring relations with the US, bringing stability to the political system, and healing rifts in Israeli society.
The coalition building process has been underway for for several days, and will now officially begin further rounds of negotiations. Netanyahu will have four weeks to form his government, with an option to extend talks for another two.