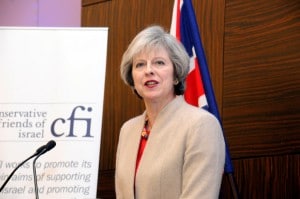 Prime Minister Theresa May pledged to be the Jewish community's "champion" and vowed to "always take a zero-tolerance approach" to antisemitism, in an exclusive op-ed for Jewish News this week.
Writing ahead of Thursday 8th June's General Election, Prime Minister May underlined that the Conservative Government will "stand firm against terrorism, whether it occurs in Manchester or Tel Aviv".
The Prime Minister emphasised her staunch support of Israel, stating: "We have continued to stand up for Israel. We have refused to support one-sided and unfair criticism of Israel internationally, whether at the Paris Peace Conference in January or in voting at the UN Human Rights Council, UNESCO, and even the WHO this spring".
She condemned anti-Israel boycotts and promised that the Conservative Government will legislate on this: "We have taken firm action to stop counter-productive and damaging municipal boycotts against Israel and will legislate on this. We should celebrate and build on that economic relationship, condemning any attempt to undermine that".
Regarding the fight against antisemitism, the Prime Minister highlighted the Conservative Government's formal adoption of the International Holocaust Remembrance Alliance's working definition of antisemitism in December.
She additionally wrote: "In our manifesto for this election, we have pledged to establish a Commission for Countering Extremism to root out extremism and anti-Semitism in society".
On the subject of the Jewish community's ability to practice their faith freely, Prime Minister May wrote: "We have defended the right of Jews to practice shechita, and we will continue to protect methods of religious slaughter. We will continue to fund the Jewish Community Protective Security Grant with £13.4m in this financial year. This will help protect Jewish schools, colleges, nurseries and synagogues".
Prime Minister May wrote that the Government would be scrapping "unfair and ineffective" inclusivity rules for faith schools: "We have opened seven new Jewish schools across the country under the free school programme, and we have a manifesto commitment to replace the unfair and ineffective inclusivity rules which limit, new, oversubscribed faith schools from admitting more than half their intake on the basis of religion. I know the Jewish community leadership has welcomed our plans, and I am keen to see more high-quality Jewish faith schools being set up by the community".
She reaffirmed the Conservative Government's commitment to supporting the peace process between the Israelis and Palestinians, writing: "I have reiterated to Prime Minister Netanyahu, most recently in February, our firm commitment to a two-state solution, based on direct negotiations between Israel and the Palestinians, as the best way to bring about stability and peace in the region. Part of that can be achieved through the enhancement of our strong economic relationship".
Prime Minister May praised the Jewish community's "immense contribution to British life, whether it's in business, the arts or the charitable sector – Jewish people in Britain today set an example to us all". She added: "We have some fantastic Jewish candidates standing for the Conservatives at this election, and many more like me who are not Jewish, but understand and support both the Jewish community and Israel".
Click here to read Prime Minister Theresa May's article in the Jewish News.