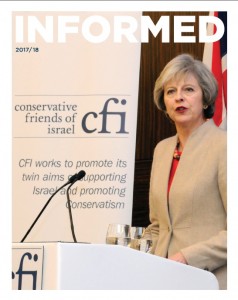 Prime Minister Theresa May has vowed that the Conservative Party will always be "absolutely unequivocal" in its condemnation of antisemitism whenever it arises, and pledged "to repay the trust" the Jewish community placed in the Conservative Party, in CFI's redesigned new edition of Informed magazine.
In her letter, Prime Minister May promises: "Whenever we see antisemitism rear its ugly head in our own country, we must be absolutely unequivocal in our condemnation of it. Whatever approach some other parties may take, the Conservatives will always condemn anti-Semitic hatred and call it for what it is – racism pure and simple".  She asserts: "The contribution of British Jews to life in the United Kingdom is immense".
Recognising the support the Conservative Party received from the Jewish community at this year's general election, the Prime Minister expresses: "I was proud at the general election earlier this year, so many Jewish people gave our Party their support – not least thanks to the hard work of CFI volunteers in constituencies up and down the country".  She pledges: "We are determined to repay the trust they placed in us".
The Prime Minister describes the Balfour Declaration as "one of the most important letters in history", and vows to mark the centenary "with pride".
Celebrating Israel's achievements since that time, Prime Minister May asserts that "the vibrant, diverse and innovative country Israel is today would have been almost unimaginable in 1917. The hard work of generations of Jewish people has made Israel the 'start-up nation' – one of the world's great success stories".
Reaffirming the British Government's long-held position that Israel has the right to defend itself, Prime Minister May says: "Israel's economic success has been secured in the teeth of constant threats to its security and hostility towards its very existence. Our position is clear: Israel has a right to defend itself and responsibility to keep its people safe".
Hailing the UK-Israel partnership and her ambitions to bolster bilateral ties after Brexit, Prime Minister May underlines: "The UK is Israel's biggest European export market and, as we leave the EU, we are determined to grow our trading relationship further". The Prime Minister also emphasises that, "there is much that Britain and the world can learn from Israel's economic success", heralding Israel as a "world leader" in the areas of high technology, medicine and energy.
Prime Minister May thanks CFI for the "great work you do for our Party and our country", adding that "your organisation does a huge amount to promote a better understanding of Israel in the UK and to strengthen links between our two countries".
CFI's Informed magazine has been published ahead of Conservative Party Conference and will be available to collect at our stand P1 in the Party Zone, as well as at our event on Monday 2nd October at 21:30, room Alexandra B in the Midland Hotel.
The magazine features articles by a number of Conservative parliamentarians, including CFI's new Parliamentary Chairman, Rt. Hon. Stephen Crabb MP, Rt. Hon. Mark Harper MP, and Rt. Hon. Sir Eric Pickles, as well as messages from the Ambassadors of Israel and the United Kingdom. In the issue you will also be able to read about CFI's expansive delegations programme, campaigns in Parliament, and the organisation's actions to support the Conservative Party.
The new edition of CFI's Informed Magazine is available to read on our website