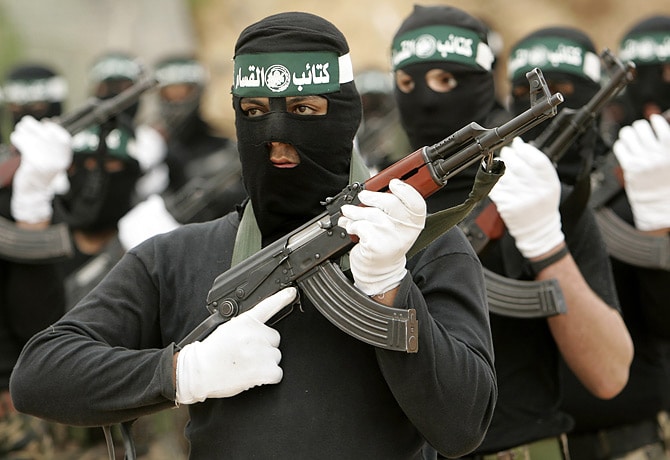 Iran has sent Hamas's military wing tens of millions of dollars to help it rebuild the network of tunnels in Gaza destroyed by Israel last summer, intelligence sources told The Sunday Telegraph this weekend.
The Islamic Republic is also reportedly funding new missile supplies to replenish stocks used to bombard residential neighbourhoods in Israel last summer.
The renewed funding is a sign that the two old allies are putting behind them a rift caused by the conflict in Syria, where Shia Iran is backing President Bashar al-Assad against Hamas's mainly Sunni allies.
Iran has sponsored Hamas's military operations for years with Hamas officials repeatedly thanking the country for its financial and material assistance.
Hamas is increasingly reliant upon its Shia funders in Iran since Egypt's President Abdel al-Sisi is conducting an extensive clamp down on the Muslim Brotherhood within Egypt – from which the Palestinian terror group is an offshoot.
Iran has markedly increased its overseas operations, using its notorious Al-Quds force, led by General Qassem Suleimani. At the same time the country has been participating in nuclear talks with the P5+1 Iran has been openly backing the Shia Houthi rebels fighting the internationally recognised government in Yemen, and supporting the Shia-dominated Iraqi government's fight against ISIS.
A senior Western security official was reported as saying: "Iran's Shia leaders are trying very hard to increase their influence throughout the region at the expense of the Sunni regimes".
Hezbollah leader Hassan Nasrallah said today that the framework nuclear agreement between Iran and the P5+1 means the Islamic Republic would be better positioned to support "Palestinian resistance".
Nasrallah said: "A stronger and wealthier Iran, in the coming phase, will be able to stand by its allies, and especially the Palestinian resistance, more than at any other time in history".