I am text block. Click edit button to change this text.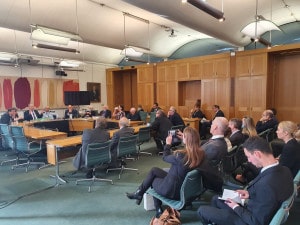 This week, senior Israeli military officials briefed parliamentarians on Iran's regional aggression at a meeting of the Britain-Israel All-Party Parliamentary Group (APPG).
Major General Tal Kelman and Brigadier General Amit Saar detailed Iran's support for proxy terror groups and the implications of Iran's nuclear programme.
Iran's Islamic Revolutionary Guard Corps (IRGC) has reportedly assisted the Hezbollah terror group in southern Lebanon in building infrastructure to produce sophisticated weapons components, and Iran's provision of unmanned aerial vehicles (UAVs) to militia groups has increased.
The IDF officials underlined the importance of agreeing a "longer and stronger" nuclear agreement between the P5+1 and Iran, stating that the Joint Comprehensive Plan of Action (JCPOA) signed in 2015 did not resolve concerns over Iran's nuclear programme.
The meeting was chaired by CFI Officer and Britain-Israel APPG Chairman Bob Blackman MP and was attended by cross-party parliamentarians including Defence Committee members Sarah Atherton MP and James Sunderland MP.