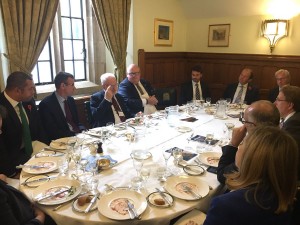 One of Israel's most senior Israeli defence officials, Amos Gilad, addressed over 15 Conservative MPs at a lunch hosted by CFI in Parliament on Tuesday.
Among those in attendance was Chairman of the Foreign Affairs Select Committee Crispin Blunt MP, CFI Parliamentary Chairman Rt. Hon. Sir Eric Pickles MP, and Vice-Chairman John Howell OBE MP. Ambassador of Israel, H.E. Mark Regev was also in attendance.
Amos Gilad is the Director of the Israel Defence Ministry's Political-Military Affairs Bureau, and Chair of the Security Relations with Regional and Strategic Partners in Israel.
Maj. Gen. Gilad has held several senior positions such as Defence Minister, Military Secretary of the Prime Minister, IDF Spokesman, Head of the Military Intelligence Research Division and Coordinator of Government Activities in the Territories.
Maj. Gen. Gilad spoke to MPs about a range of issues, including Russia's presence in Syria, the influence of Islamic State, and Iran's nuclear as well as regional ambitions.
He stressed that the defence and intelligence relationship between Israel and the UK had always been excellent and continues to be, before MPs had the opportunity to ask Mr Gilad questions.