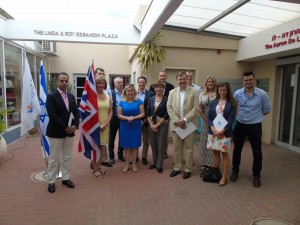 During the Conference recess, CFI coordinated a delegation to Israel for seven Conservative Members of Parliament led by former Culture Secretary Rt. Hon. John Whittingdale OBE MP. The trip was CFI's twelfth delegation since the General Election in May 2015.
The attendees included Maria Caulfield MP, John Glen MP, Nigel Huddleston MP, Philip Hollobone MP, Rebecca Pow MP and Michael Tomlinson MP.
The visit coincided with former President of Israel Shimon Peres' funeral, which saw leaders from around the world make their way to the country.
The CFI delegation featured a full itinerary of political and security briefings, giving the group a first-hand look at the latest situation in Israel, as well as cultural and historical visits.
The visit began with a visit to Beit Issie Shapiro, in the city of Ra'anana, where the delegates were briefed by the organisation which provides cutting-edge services to improve the quality of life for people with disabilities. Later that day, the MPs visited iAngels, a high-tech investment service based in Tel Aviv, where they heard about why Israel is known worldwide as the 'Start-up Nation'.
The group met with British Ambassador to Israel, H.E. David Quarrey, at his residence in Tel Aviv, who gave an introduction to some of the most pressing issues in the region. The same day, MPs met with the leader of centrist party Yesh Atid, Yair Lapid. Yesh Atid, which has 11 seats in the Knesset, is currently riding high in the polls and could take more seats than Likud should an election take place now. The following day, the delegates had dinner with National Security and Foreign Affairs Minister Tzachi Hanegbi.
During their visit, the delegation also met with Middle East expert Jonathan Spyer, Editor of the Times of Israel, David Horovitz, journalist Matti Friedman, and Professor Reuven Hazan, who informed MPs about Israel's colourful political system.
As part of the diverse itinerary, the MPs received security briefings in the Gaza border town of Sderot in southern Israel, where they saw the remains of Hamas rockets, in addition to the Netiv Ha'Asara moshav where MPs saw the entrance to a Hamas cross-border terror tunnel.
The delegation's visit to the West Bank began with a tour of the first Palestinian-planned city of Rawabi, which seeks to be a prosperous centre for business and culture in the region, expecting to house over 35,000 Palestinians. The delegates met with Rawabi's visionary, Palestinian-American businessman Bashar Masri, from whom they learnt that the first 300 families had now moved into the city's apartments.
In Ramallah, delegates met former Palestinian Authority official Dr. Sufian Abu Zaida, and visited Sadara Ventures, which is the first venture capital firm targeting the Palestinian tech sector.
On the final day of the trip, the delegation paid a moving visit to Yad Vashem Holocaust Memorial in Jerusalem and laid a wreath.
This was followed by a visit to Israeli NGO Save a Child's Heart in Holon where the delegates met children from developing countries around the world receiving life-saving heart surgery. Over 50% of around 4,000 children who have received the life-saving treatment are Palestinians from Gaza and the West Bank.
Maria Caulfield MP (Lewes): "[Save A Child's Heart] is a charity that is very close to my heart because not only was I a nurse before I became an MP, but also I had congenital heart disease as a child myself, and so I know the difference that medical treatment can make. We met with the children today and their mums and their carers, some before surgery and some after, and this is an amazing thing that this Israeli charity is doing, making such a difference to young children who would never have this opportunity in their own countries. It really reflects the whole few days that we've had in Israel where we've seen lots of examples of where Israel is helping their neighbours, whether it's in Palestine and in other parts of the world as well".
Delegation leader, Rt. Hon. John Whittingdale OBE MP (Maldon): "During our time we have not only met a lot of people, we've seen a lot of the country. We've been all the way down to the border with Gaza, and yesterday we were in the West Bank talking to Palestinians as well as Israelis about the big question of the Israel-Palestinian conflict… Our trip has been somewhat overshadowed by the fact that midway through it we learnt of the tragic death of Shimon Peres. I was lucky enough on my last visit to Israel with CFI, now over 20 years ago, to meet Shimon Peres, and I remember what an extraordinary man he was… [The trip] has been a fascinating experience and certainly I think has increased the understanding of myself and all of my colleagues about the situation of Israel today".
John Glen MP (Salisbury): "This has been a fantastic week in Israel with the CFI. I've learned so much about this country, about the dynamics between Palestinian and Israeli perspectives. We've met politicians, we've met journalists, we've been to the West Bank, we've been to the border with Gaza, we've seen civil society organisations. We get lots of emails as MPs from both sides of the fence as it were, on this issue. What CFI have done is put together a really effective programme of events and meetings, which gives us an opportunity to ask really tough questions, but leaves us at the end of the week with a clear understanding of the way forward…to understand both sides with a greater degree of depth and real knowledge. I would like to thank the CFI for the opportunity to be here this week, it's one that I wouldn't have missed for the world. I hope that many more colleagues will choose to come to Israel in the weeks and months ahead. I think that it's something you really need to do if you're going to speak with intelligence and authority on this subject".