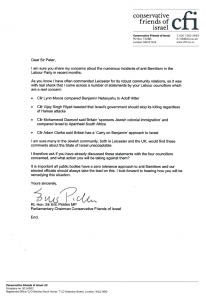 In a letter to the Mayor of Leicester, Sir Peter Soulsby, CFI Parliamentary Chairman Rt. Hon. Sir Eric Pickles MP has expressed his concerns about statements made by Labour councillors in Leicester in the wake of Labour's anti-Semitism crisis.
Sir Eric condemned recently exposed comments made by Leicester councillors including Councillor Lynn Moore, who compared Israeli Prime Minister Benjamin Netanyahu to Adolf Hitler, and Councillor Mohammed Dawood, who said that Britain "sponsors Jewish colonial immigration" and compared Israel to Apartheid South Africa.
The Former Communities and Local Government Secretary wrote: "As you know I have often commended Leicester for its robust community relations, so it was with real shock that I came across a number of statements by your Labour councillors which are a real concern".
Sir Eric said: "I am sure many in the Jewish community, both in Leicester and the UK, would find these comments about the State of Israel unacceptable… It is important all public bodies have a zero tolerance approach to anti-Semitism and our elected officials should always take the lead on this. I look forward to hearing how you will be remedying this situation".