Note to reader: We wanted to give you a trigger warning on what you may read below. We have chosen, as with every night of these briefings, to not share horrific images, however we want to alert you as sensitively as we can to the reports coming out of Israel.
Foreign Secretary James Cleverly: "how can there be peace when Hamas are committed to the eradication of Israel?"
Foreign Secretary James Cleverly questioned "how can there be peace when Hamas are committed to the eradication of Israel?" after Ghazi Hamad, a senior member of Hamas's Political Bureau, declared on LBC TV Lebanon that "we must teach Israel a lesson, and we will do this again and again". "The al-Aqsa Flood [7th October massacre] is just the first time, and there will be a second, a third, a fourth", he added.
"Will we have to pay a price? Yes, and we are ready to pay it. We are called a nation of martyrs, and we are proud to sacrifice martyrs", the Hamas official said.
"Israel is a country that has no place on our land. We must remove that country. We are not ashamed to say this, with full force".
"On October 7…everything we do is justified", he exclaimed.
"Totally unacceptable" to remove hostage posters from streets of Britain
Deputy Prime Minister Oliver Dowden said this morning that pulling down posters of hostages is "totally unacceptable". Speaking to both LBC and Sky News, Dowden underscored that "these families are going through so much hurt. Over 200 innocent people are being held in Gaza. It's right that they should draw the world's attention to their appalling suffering and those posters should not be pulled down".
CFI Vice Chair Jeremy Brier KC when speaking to TalkTV noted that "we see on the streets of London, not solidarity with those victims of terror that you might expect, but actually, this outrageous anger directed at Israel for defending itself against those acts of terror".
He asked "what does that tell you about London and Britain and where we are as a country right now?" when "the police standing there saying…we don't want to inflame community tensions, so we'll let all this ["outrageous outpouring…some of which is genocidal in terms of what it's promoting"] go but if we see anyone putting up a poster about a missing baby that's been abducted from their childhood home in a kibbutz in Israel, we're going to rip that down".
Transport Secretary condemns chants of "from the river to the sea" at Liverpool Street Station
In an online statement, Transport Secretary Mark Harper, expressed that "the situation earlier this evening at Liverpool Street Station will have been of concern to many people". "I've been in contact with British Transport Police and will be meeting officers later this week. Everyone should feel safe when using our rail network", he added.
Pro-Palestinian protesters staged a sit-in at Liverpool Street Station yesterday evening during rush hour.
Chants of 'from the river to the sea' could be heard across the concourse, with pro-Israel commuters forced to change their travel plans to avoid intimidation.
Transport Minister Richard Holden posted a picture of the statue at Liverpool Street Station in commemoration of the Holocaust, stating that "here is the statue at Liverpool St Station, marking the place where 10,000 Jewish Children who fled Nazi Germany arrived, in what was known as the Kindertransport. The overwhelming majority never saw their parents again as they were murdered in the Nazi concentration camps".
Education Secretary: "Antisemitism has no place in our society. We will not tolerate it in our universities"
Education Secretary Gillian Keegan said today that "no student should have to attend university in a climate of fear". Writing for Conservative Home, she exclaims that "since Hamas' appalling and barbaric terrorist attacks on Israeli civilians, that spirit of tolerance is more important than ever".
"The images I have seen of Jewish students being harassed, or pro-Hamas demonstrations being held on campuses, have been despicable", she notes. "Some of these students have contacted me and have told me that for the first time in their lives, they have feared expressing or showing their religion in public. This is unacceptable and cannot be allowed to take place in a free society".
"Alongside despicable support for Hamas, we have seen troubling reports of more direct discrimination against Jewish students or workers in higher education".
Discussing UCL's University and College Union (UCU) trying "to justify the atrocities in a recent statement", the Education Secretary highlighted that it was "irresponsible and deeply wrong". "The promotion of conflict and glorification of terrorism will never be tolerated. UCL has rightly condemned their incitement of violence and called on the UCU to withdraw their statements", she added. "It is dangerous, extreme and puts Jewish students and staff at risk of genuine harm".
She vowed that the Department of Education "will take rapid action to stamp out discrimination of all kinds, whether that is antisemitism, anti-Muslim, or any other forms of hate".
"It's time that a vocal minority on our campuses stopped glorifying terrorism. As a government we will always stand up for our fundamental British values – and stand united against hate and intolerance".
Lord Ahmad visits Israel and Palestinian Territories
Middle East Minister Lord Ahmad started his two-day tour of Israel and the Palestinian Territories today.
In an online statement after visiting the Palestinian Territories, Lord Ahmad "reiterate[d] UK support to the Palestinian Authority, humanitarian access and British Nationals to leave Gaza"." We must prevent regional escalation and deliver ultimately a two-state solution, to ensure justice and security for both Israelis and Palestinians", he added.
Vandalism in Keighley
Robbie Moore, Conservative MP for Keighley condemned the vandalism of Starbucks and McDonalds in his constituency targeted for allegedly supporting Israel.
The MP said that he is "sickened by last night's acts of vandalism and intimidation which were carried out in our community. The smashing of windows at Keighley's Starbucks and McDonalds and the vile attempts to intimidate staff and customers were pathetic, cowardly and disgraceful acts".
"Scaring & intimidating people, pick-axing windows, deliberately choosing to negatively impact local residents, employees, and customers – who have NOTHING to do with the situation in Gaza – will do nothing to solve the situation in the Middle East".
"These acts are completely counterproductive and an insult to all calling for peace in the Middle East. We cannot let the situation abroad destabilise community relations here. I absolutely condemn all who carry out any criminal acts or choose to use such threatening behaviour", he added.
"The perpetrators must be dealt with the full force of the law".
Aden Hamui who was critically injured by Hamas terrorists at the outdoor Nova Festival in the desert on 7th October succumbed to her wounds today.
13 IDF soldiers were killed yesterday and two today during Israel's ground operation in Gaza.
The IDF has announced that at least 317 soldiers have been killed since 7th October, making this the deadliest conflict for the IDF since the First Lebanon War (1982-1985) where approximately 657 servicemen were killed.
Over 8,500 rockets have been fired towards Israel from Gaza since 7th October with a large barrage of rockets this morning towards Ashdod and Ashkelon. 1,500 rockets have been fired in the last 10 days, reflecting Hamas' commitment to continuing hostilities.
Israel's northern border
Yesterday evening, the IDF shot down a surface-to-air missile launched from Lebanon at an IDF drone. In response, the Israeli Airforce (IAF) attacked the source of the attack as well as the cell that carried out the launch.
Mortars were launched at the Shtula area on Israel's northern border today, all of which landed in open areas. The IDF struck the terror cell responsible for the attack as well as a separate terror cell preparing to fire an anti-tank guided missile towards Israel.
According to the pro-Hezbollah Al Mayadeen news outlet, Hezbollah leader Hassan Nasrallah is set to deliver a speech on Friday to honour the "martyrs who died on the road to Jerusalem". Over 40 Hezbollah terrorists have been killed.
Houthi attacks on Israel after declaring war
The Iranian-backed Houthis based in Yemen declared war on Israel yesterday.
Early this morning, a missile thought to be launched from Yemen was intercepted over the Red Sea, south of Eilat.
The Mayor of Eilat has limited middle and high school classes due to shelter capacity.
The IDF have deployed a naval fleet in the Red Sea made up of several Navy Missile Frigates. The ships are defensive with capabilities to intercept cruise missiles and drones fired from Yemen.
American bases attacked
A Pentagon spokesperson has said that since 17th October, U.S. bases in Iraq and Syria have been attacked 27 times by terrorist organisations in the Middle East.
This morning there were four hits to the El Amr Oil Field after rocket fire towards the area.
Operation Swords of Iron
The Rafah crossing opened this morning to allow the evacuation of foreign nationals from Gaza, and 80 injured Gazan civilians to be treated in the Egyptian field hospital next to the crossing.
British Foreign, Commonwealth, and Development Office (FCDO) released a statement this morning stating that they "understand the crossing will be open for controlled and time-limited periods to allow specific groups of foreign nationals and the seriously wounded to leave. It is therefore likely the departure of British nationals from Gaza will take place in stages over the coming days".
Egyptian security forces have said that at least 320 foreign passport holders have entered Egypt from Gaza today.
Since the beginning of the war, the IDF have struck 11,000 Hamas and Palestinian Islamic Jihad targets.
According to the Hamas-run health ministry over 8,500 Palestinians have been killed. It is It is unclear how many in this figure are terrorists and civilians. This number cannot be independently verified and is believed to also include Hamas terrorists killed in Israel following the deadly massacre of 7th October. The number also includes Gazans killed as a consequence of rocket misfires and landing short.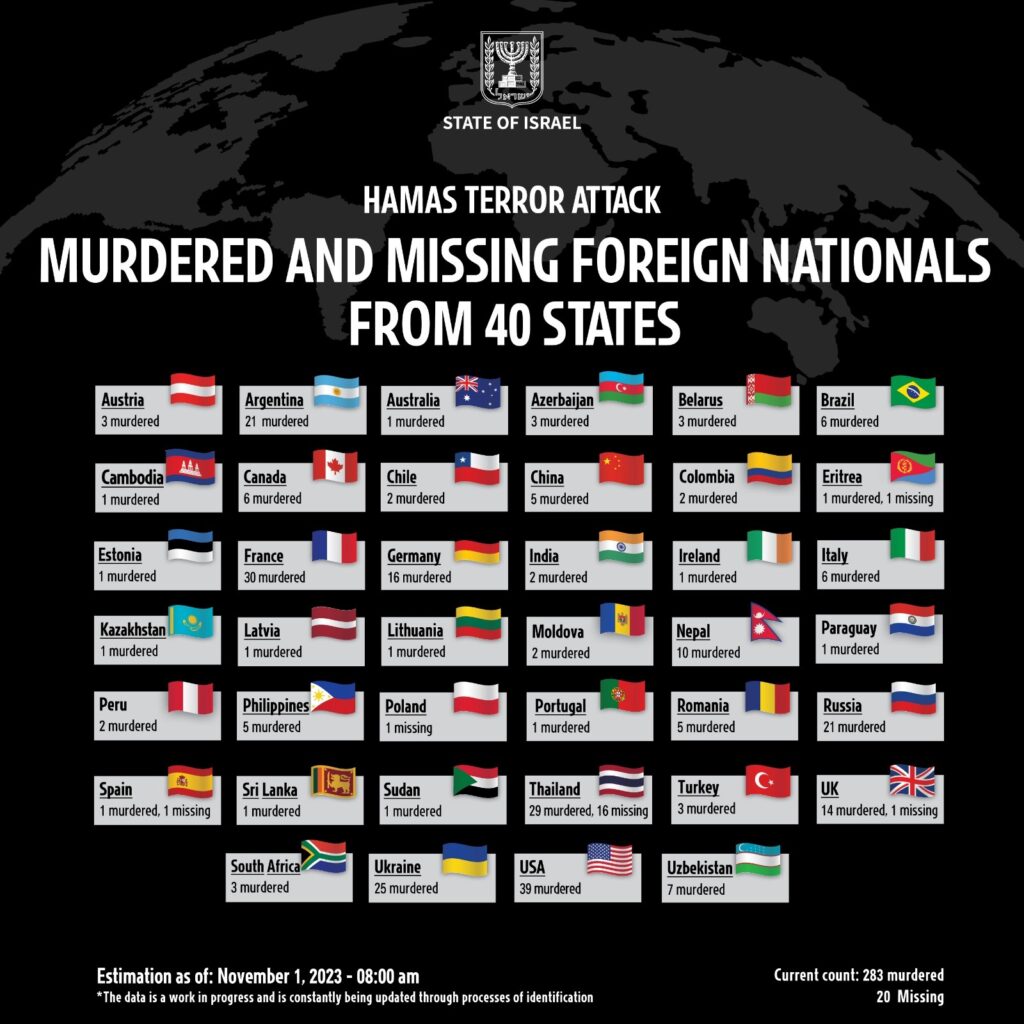 During this difficult time please consider donating to Magen David Adom's urgent appeal https://mdauk.org/
Please also email your MP to share your support with Israel. You can do this via We Believe in Israel: https://tinyurl.com/mr2rcbej