Note to reader: This briefing relates to yesterday's events.
We wanted to give you a trigger warning on what you may read below. We have chosen, as with every night of these briefings, to not share horrific images, however we want to alert you as sensitively as we can to the reports coming out of Israel.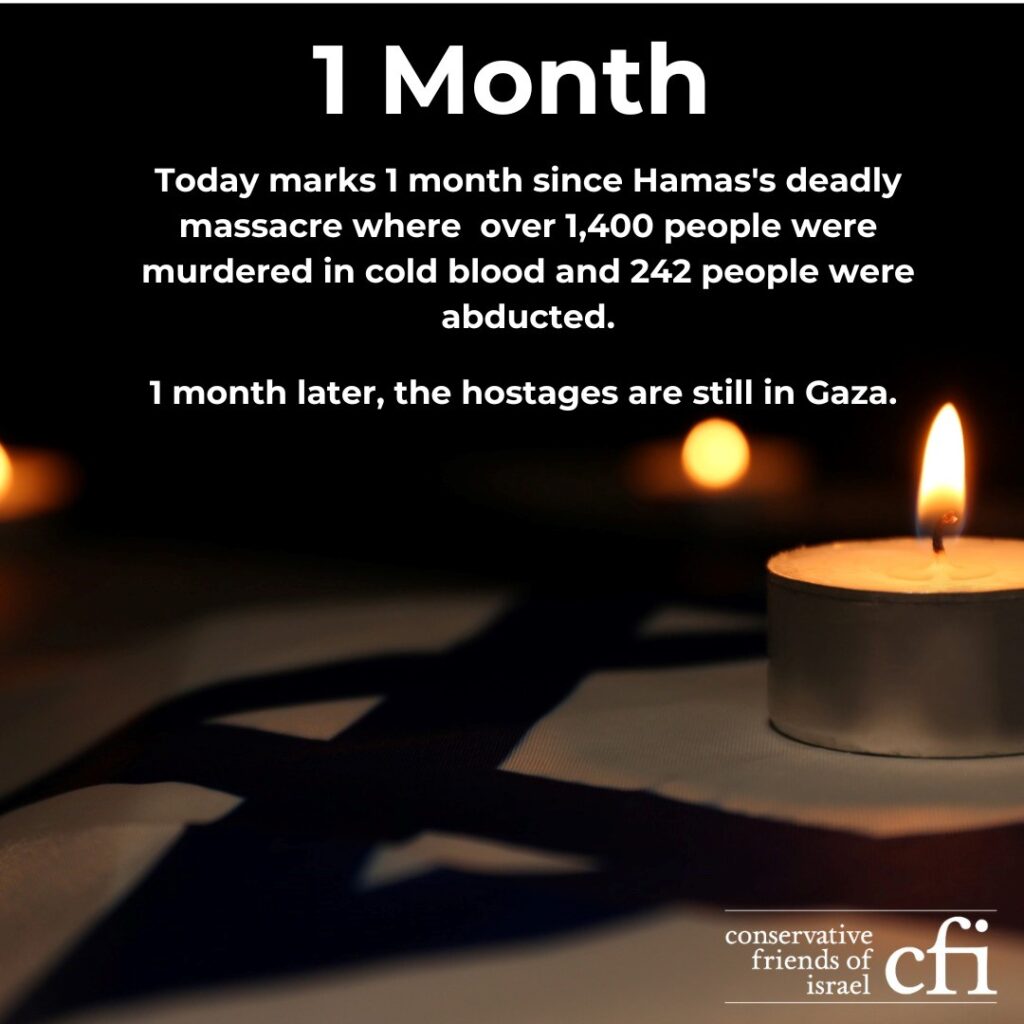 One month since Hamas' deadly massacre
Prime Minister Rishi Sunak told the House of Commons today that "a unilateral and unconditional ceasefire would simple allow Hamas to entrench its position and continue its attacks against Israel". "To get aid in and hostages and foreign nationals out", he reiterated the call "for a humanitarian pause as soon as possible".
The Prime Minister declared that the Government "abhor the way that Hamas use innocent Palestinians as human shields".
He referenced that "only last week Hamas reiterated its intentions, stating clearly: "we will repeat the October 7th attack, time and again, until Israel is annihilated". Faced with such a threat, no country could be reasonably expected not to act". He reiterated "the United Kingdom's backing for Israel's right to defend itself".
On antisemitism, Prime Minister Sunak said that the Government "will not stand for the hatred and antisemitism we have seen on our streets". "It sickens me to think that British Jews are looking over their shoulder in this country, that children are going to school covering up their school badges, for fear of attack", he added.
The Prime Minister vowed that "this Government will do whatever it takes to keep the Jewish community safe", and "we will protect our democracy from all threats to it".
HRH King Charles III in his first King's Speech, marking the official opening of Parliament, said: "My ministers will work closely with international partners to support Ukraine, strengthen NATO and address the most pressing security challenges. This includes the consequences of the barbaric acts of terrorism against the people of Israel, facilitating humanitarian support into Gaza and supporting the cause of peace and stability in the Middle East".
The King's Speech also included the Government's commitment to tackling antisemitism and ensuring that the Holocaust is never forgotten. A Bill will progress the construction of a national Holocaust Memorial and Learning Centre in Victoria Tower Gardens".
Pro-Palestinian Protests
The Telegraph has disclosed that former Hamas chief, Muhammad Kathem Sawalha, who was leader of the terror group in the West Bank in the 1980s, is one of the organisers of the pro-Palestinian protests on the streets of Britain. Sawalha is reportedly the founder of the Muslim Association of Britain (MAB), which is listed as event organiser.
CFI's Parliamentary Vice-Chair and Chair of the All-Party Parliamentary Group on Antisemitism Andrew Percy MP has said that "the involvement of these people proves that these marches are not about peace, they are about stirring up Jew-hate and a hatred of Western values".
"They are organised to celebrate the murder of innocent civilians in the most grotesque ways, including ripping out babies from pregnant mothers, cutting off limbs of children and worse still. These people have no interest in peace and it is time the UK stopped indulging their hateful ideology", he added.
"The Met need to prove that they are here to defend the values of the majority in this country – not pander to a perverted ideology – by banning this hate march", he said.
Conservative MP Robert Largan said that "we've seen these 'pro-Palestine' protests every weekend since 7 October when over 1,400 men, women & children were brutally murdered by Hamas just for being Jewish. They've completely dominated our city centres and many train stations, causing significant public disorder".
"The protests have been a constant cover for anti-Jewish racism, for intimidation, for calls in support of Hamas, calls for the destruction of Israel, calls in support of genocide, calls for Jihad", he added.
Sharing concern over "a very real risk of disruption of Armistice Day", Largan said that "public order must be enforced. We cannot continue this destructive cycle of hate on our streets. A lot more is at stake than just Remembrance. Our nation's values must be defended".
Conservative MP James Sunderland has called for the Government to ensure no protest goes near the Cenotaph. On X, the MP tweeted: "With my friend Jonathan Gullis [MP], our Desecration of War Memorials Bill became law in 2022. The Metropolitan Police must stop any odious behaviour at the Cenotaph. But far better for the Government to ensure that no protest goes near it in the first place".
Conservative MP for Keighley Robbie Moore, has said that "any protests to take place in such close proximity to Keighley's Cenotaph is completely disrespectful".
Discussing the definition of 'from the river to the sea', he said that the "phrase [is] laced with genocidal intent and [is] also used by the terrorist group Hamas in their rejection of Israel's right to exist". He added that these signs at protests are "a complete and utter disgrace".
Former leader of the Conservative Party, Rt Hon Sir Iain Duncan Smith MP, in an online statement, noted that 'from the river to the sea' is "not some gentle idea about freedom for Palestine, it is very clear, and made clear by Hamas and Hezbollah, that it's about eradicating the Jews in Israel and Palestine". "We've also seen intimidating behaviour from some people during these marches on the streets of the UK, with instances of people flying Hamas flags and calling for Jihad", he added.
Calling for protests not to take place on Remembrance Weekend, the MP said that "people can protest on any other day of the year, but on this day of solemn days in the British calendar, protests over the Remembrance weekend – Armistice Day and Remembrance Sunday – would divert attention from honouring the British and Commonwealth people who died in defence of the freedom we have today".
This morning, Justice Secretary Alex Chalk expressed that he was "appalled" to hear a veteran was attacked by a pro-Palestinian protester. Scotland Minister John Lament MP said it was "sickening and disgraceful. Nobody should be attacked like this, especially a veteran selling poppies".
The Jewish Chronicle has revealed that the organisers behind the 2021 convoy through Jewish neighbourhoods of London – in which antisemitic abuse was hurled as well as calls for rape – are planning another convoy to coincide with Remembrance Sunday. In an online statement, Home Office Minister, Robert Jenrick MP said that "when this convoy drove through London in 2021, spewing antisemitic hate, [then- Home Secretary] Priti Patel & I went to Golders Green with the Police to reassure worried people that they'd be protected from these thugs". "Once was more than enough. The Armistice Day protests should not proceed", he added.
Lord Polak
Today, CFI Honorary President Lord Polak OBE spoke at a vigil for the hostages in Gaza, one month on. He said that "I want to hear the names of individuals. Because every individual that is in Gaza is a grandmother, or a grandson, or granddaughter". He led attendees in the Jewish prayer Acheinu; praying for Israelis in captivity.
Today marks one month since Hamas' deadly massacre where over 1,400 people were murdered in cold blood and over 200 people were abducted. One month later, bar five, the hostages are still in Gaza. The Red Cross have not visited the hostages and therefore have been unable able to verify the health and safety of the abductees.
Israeli Prime Minister Benjamin Netanyahu said that "there will be no ceasefire…without the release of our hostages".
This evening, in a televised address, speaking to the hostages' families, "who are enduring an ongoing nightmare…I want you to know that we are using all means, on all fronts, in order to bring your loved ones – our loved ones – back home".
Israeli Minister of Foreign Affairs Eli Cohen said in an online statement that "today, we mark one month since the terrible massacre committed by Hamas terrorists who infiltrated Israel. They committed the most horrible atrocities imaginable, murdered children, harmed women, and kidnapped hundreds of civilians, including elderly people and children. We will never forget and never forgive".
"We will destroy Hamas, a terrorist organisation worse than ISIS, and we will do everything in our power for the return of the hostages. I call on the international community to stand by our side in the fight against evil", he added.
Out of the 1,400 people murdered, not all have been identified due to severe mutilation. Israel's Antiquity Authority joined efforts to assist identifying severely burnt victims. Archeologists were able to identify 10 victims who were previously considered missing.
Over 9,500 rockets have been fired from Gaza towards Israel since 7th October, including a barrage fired towards central Israel – Tel Aviv, Modi'in, Herziliyah, Petah Tikvah – this evening with some landing in the sea.
Northern border
This morning, an IDF tank attacked a terrorist cell in Lebanon who tried to launch an anti-tank missile towards the Shatula area in northern Israel.
This afternoon, rockets were reportedly fired from both Lebanon and terror groups inside Syrian territory. The IDF responded by targeting rocket launching positions, and a weapons depot in Lebanon.
A Hezbollah drone was also intercepted by the IDF this afternoon.
West Bank
In a joint operation yesterday, the Israeli security establishment carried out a targeted strike in Tulkarem, West Bank against four terror suspects including the local head of Hamas' military wing, and the head of the Aqsa Martyrs' Brigades (Fatah's military wing).
According to the Shin Bet, the four were responsible for dozens of past shooting attacks and had been planning to plant explosives as well as infiltration attacks on West Bank settlements in the areas of Baruchin, Ali Zahav, Leshem, Paduel.
Hospitals
Hamas terrorists are exploiting hospitals for terror purposes.
In October, it was uncovered that Hamas' main headquarters are located directly under the Shifa Hospital.
An IDF spokesperson told the press that there are several underground complexes used by Hamas to direct their activities with a tunnel leading to the hospital. Within the hospital itself, there is a Hamas internal security control center staffed by armed men, as well as headquarters where weapons and ammunition are stored and fired.
It has since been revealed that the Sheikh Hamad Hospital and the Indonesian Hospital also serve as a shield for Hamas terrorist activity.
The Sheikh Hamad Hospital hides an opening to a Hamas terror tunnel. Hamas has also been seen shooting from the hospital putting patients and medical staff at risk.
The Indonesian Hospital also hides a Hamas terror outpost underneath its facilities with a maze of tunnels below. The Hospital is now empty of patients, and has been taken over by Hamas purely for war purposes.
70 metres from the hospital is a rocket launch site where Hamas fires missiles towards Israel.
Conversations between Hamas terrorists have been intercepted in which they discuss stealing fuel intended for the Shifa, Indonesian, Nasser and Rantisi Hospitals.
Operation Swords of Iron
Today 96 trucks carrying medical supplies, food, and water entered Gaza from the Rafah crossing.
The IDF once again opened a humanitarian route in order for tens of thousands of civilians to evacuate from the north of the Gaza Strip to the south. IDF soldiers checked IDs and made arrests of known fighters hiding among civilians.
The ground operation inside the Gaza Strip continues with Commander of the Southern command, Major General Yaron Finkelman saying: In these hours, we are fighting in the most significant centers of the Gaza Strip. For the first time in the past decades, the IDF is in the heart of Gaza City, in the heart of terror".
Yesterday, the IDF confirmed that they killed Wael Asefa, head of Hamas's Deir al-Balah Battalion. Asefa was one of the commanders responsible for sending terrorists into Israel on 7th October. The IDF has so far killed approximately 15 battalion commanders since their operation began.
Israeli Prime Minister Benjamin Netanyahu said this evening that the IDF "eliminated thousands of terrorists above ground – and below ground. Among them, we have eliminated arch-murderers who planned and perpetrated the terrible massacre on that black Shabbat one month ago. Since the start of the ground incursion, we have destroyed countless Hamas command centers, tunnels, bases and installations".
The Hamas-run health ministry have said that over 10,000 Palestinians have been killed. They have not differentiated between terrorists and civilians.
Yesterday, footage emerged of combatants launching rockets in civilian clothes then hiding, which not only violates international law.
After the war
Israeli Prime Minister Benjamin Netanyahu told U.S. ABC News that "for an indefinite period [Israel] will have the overall security responsibility [of Gaza] because we've seen what happens when we don't have it".
Suggestions have also included handing the Gaza Strip back to Mahmoud Abbas and the Palestinian Authority.
During this difficult time please consider donating to Magen David Adom's urgent appeal https://mdauk.org/
Please also email your MP to share your support with Israel. You can do this via We Believe in Israel: https://tinyurl.com/mr2rcbej
Please can you share or infographic featured above on social media. It can be found here https://twitter.com/CFoI/status/1721969423416734060 as well as our Instagram @cfi_uk