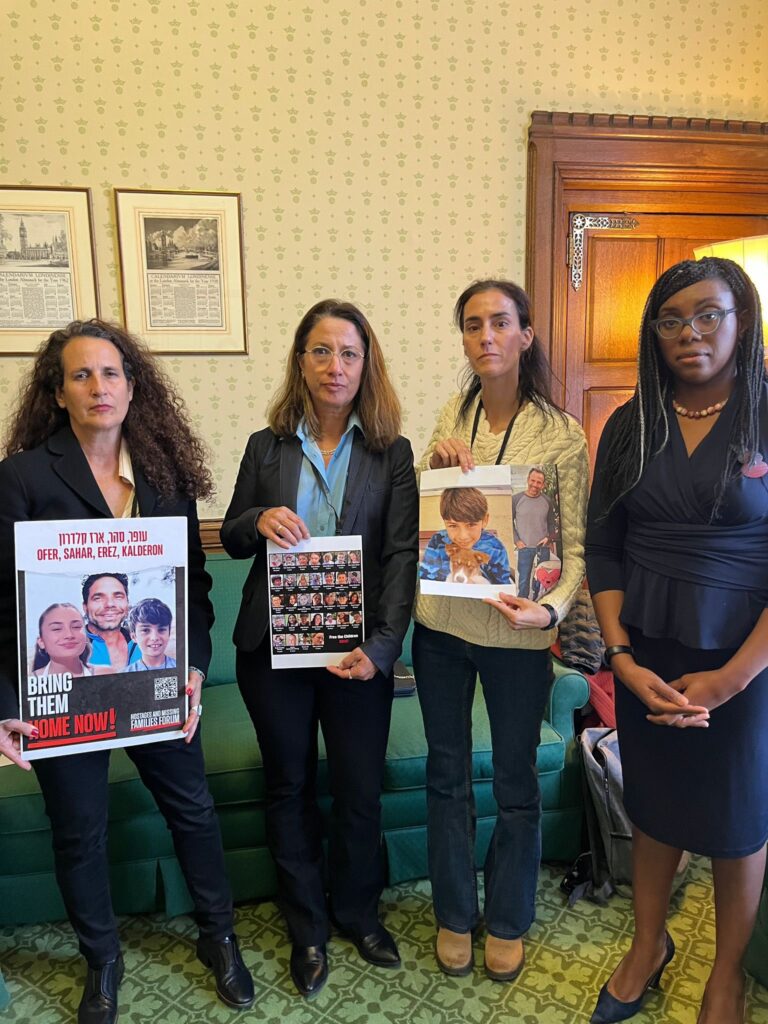 Foreign Office Minister Andrew Mitchell said this afternoon in a House of Commons debate that the plight of "more than 200 innocents cruelly kidnapped on 7 October… is a stark reminder of what Hamas represent". "The terrorists continue to launch rockets relentlessly at Israeli homes and families. Their stated aim, repeated publicly in recent weeks, is the destruction of the Israeli state and the eradication of its people. That is why the Government unequivocally support Israel's right to defend itself", he added.
"We all recognise the motivation of those who call for a ceasefire and why they are doing it, but at this time, in this situation, it is perfectly clear that Hamas have no intention of engaging in a ceasefire". "Indeed, they have repeatedly made it clear that their intention is to repeat the awful events of 7 October", Mitchell added.
He underscored that the Government "have moral clarity over Israel's right to self-defence and we reject all forms of antisemitism".
"Israel has suffered the worst terrorist attack in its history", and the "Palestinian people are also victims of Hamas", the Minister stated. Discussing the lack of fuel for civilians in Gaza, Mitchell said that "Hamas have a lot of fuel in their tunnels…so fuel could be made available to help in humanitarian purposes".
The Minister reiterated that the UK Government know that Hamas have been "stockpiling fuel" and the Government "is very careful" ensuring general "aid gets to those who need it and gets there directly", when asked about aid and fuel into Gaza by Conservative MP Antony Higginbotham. The MP for Burnley said that it is important to make "sure that once aid is in Gaza, it gets to the people who need it most. Reports suggest that Hamas are holding more than 200,000 gallons of fuel that could be used for generators, to power hospitals or for ambulances.
Conservative MP, James Morris, stated that "Hamas made a massive strategic error when they attacked innocent Israeli people on 7 October, and they are paying a heavy price with the destruction of their terror network in the Gaza strip". He argued "that the bigger price that they should pay is the moderate voices on both sides coming together to re-establish the framework… that was in place under Oslo, going towards a two-state solution between a viable Israeli state and a viable Palestinian state, and getting the terror network out of the way".
The Foreign Office Minister said: "It is no consolation to those caught up in it but…this is no strategic masterstroke by Hamas, more a desperate move to fend off a future that is rapidly leaving them behind."
Former Attorney General, Rt Hon Sir Michael Ellis MP, highlighted that "on 7 October, amid Hamas's atrocities in Israel, the terrorist group made a concerted effort to destroy water and electricity lines from Israel into Gaza", and expressed concern "that Hamas deliberately seek to worsen the humanitarian conditions inside Gaza". In response, Foreign Office Minister Andrew Mitchell said: "Ultimately, [Hamas] must fail".
On a ceasefire, Conservative MP Rt Hon David Davies MP said that "those who call for a ceasefire must recognise that Hamas is a terrorist organisation and… terrorist organisations go for ceasefires only when they suit their own regrouping, not to end violence".
Conservative MP Vicky Ford also commented on Hamas' intentions stating that "the statement from Hamas that they will not stop until the people of Israel are annihilated is deeply chilling".
The Foreign Office Minister assured the House that the UK Government was "doing everything possible to work with allies to negotiate the return of [all] the hostages?" answering a question by CFI Parliamentary Vice-Chair Rt Hon Theresa Villers MP.
Updating the House on British nationals, the Minister said that "as of late last night, more than 150 British nationals had made it through to Egypt", and evacuated Gaza. "Sadly, among the British nationals in Gaza some are held hostage by Hamas".
Trade Secretary Kemi Badenoch meets three mothers of Israeli hostages
"It is profoundly disgusting to see [hostage] posters of these little children ripped up and dismissed as propaganda. It is important that the world does not forget them", said Trade Secretary Kemi Badenoch today. "Those claiming to be marching the streets of London for peace should be calling for their release", she added.
The Trade Secretary alongside Israel's Ambassador to the UK H.E. Tzipi Hotovely met with three Israeli mothers yesterday, whose "children were stolen from them by Hamas on Oct 7 and are being held hostage in Gaza". Speaking of the meeting, Badenoch said that "it was harrowing listening to their stories. The horror they're experiencing is truly unimaginable. A living nightmare".
"Holding the children of already traumatised families is especially abhorrent". "We have to draw a line somewhere. There can be no peace with a terrorist group still using children as pawns in a conflict", she declared.
"One of the children taken was a nine-month-old baby… The UK Government is supporting Israel in efforts to free the 240+ hostages".
"One of the mothers I spoke to lost five family members during the terrorist attack. She has not seen her little ones for a month. She does not know whether she will ever see them again".
The Trade Secretary has since "raised the issue of posters being torn down with senior officials at the Met. Especially as images are circulating of some being taken down by police officers". "I will continue to support wherever I can until the crisis ends", she added.
Trade Secretary Kemi Badenoch met with Renana, Hadas, and Batsheva. Their missing children are:
Renana – Or (16) and Yagel (12)
Hadas: Sahar (16) Erez (11). Hadas' mother Carmela (80), and her niece Noya (12) were killed by Hamas after being taken hostage.
Batsheva: Eitan (12). Batsheva's husband Ohad is also believed to have been abducted by Hamas.
Pro-Palestinian protests
"It is because that sacrifice is so immense, that Saturday's planned protest is not just disrespectful but offends our heartfelt gratitude to the memory of those who gave so much so that we may live in freedom and peace today", Prime Minister Rishi Sunak said in a statement following his meeting with Metropolitan Police Commissioner Sir Mark Rowley.
"It's welcome that the police have confirmed that the march will be away from the Cenotaph and they will ensure that the timings do not conflict with any Remembrance events. There remains the risk of those who seek to divide society using this weekend as a platform to do so. That is what I discussed with the Metropolitan Police Commissioner in our meeting. The Commissioner has committed to keep the Met Police's posture under constant review based on the latest intelligence about the nature of the protests".
In an earlier interview, the Prime Minister told Sky News that "it is [his] job to hold [Metropolitan Police Commissioner Sir Mark Rowley] accountable" in keeping the public safe.
Addressing veterans and their families, Prime Minister Sunak vowed that the Government "will do everything it takes to protect this special weekend for you and our country, as we come together to reflect on those who protected our freedom."
This morning, Culture Secretary Lucy Frazer, labelled the chant 'from the river to the sea' "antisemitic". Speaking to Nick Ferrari on LBC, the Culture Secretary stated that this "is a chant that is calling for the eradication of the State of Israel. And by analogy, therefore, eradication of the Jews within Israel. And I think that is extremely offensive".
"Concerned about activities that are taking place on [pro-Palestinian] marches" the Culture Secretary said "it is wrong for criminal activity to take place, which is intimidating, which involves extremist behaviour, which involves…incitement to racial hatred". "I think this is a very provocative event", she added. "What we're talking about this weekend is respecting those who have fought for our country, we are respecting the fallen, those who put their lives on the line…for our country".
Health Secretary Steve Barclay reiterated the "provocative" nature of pro-Palestinian marches on Armistice Day whilst speaking on BBC Radio 4 this morning. "It is a very sacred day where the whole country comes together to remember those that have paid the ultimate sacrifice to give us the freedom to protest, the freedom to express different views the rest of the year".
This afternoon, Transport Secretary Mark Harper also labelled protests planned this weekend as "disrespectful and provocative", in an interview with Sky News.
MPs call out Hamas for exploiting hospitals and ambulances for terror activities
It has been uncovered that Hamas have been exploiting hospitals for terror purposes, forcing patients and medical practitioners to be human shields.
Discussing Hamas' main headquarters under Shifa Hospital, Dame Andrea Jenkyns MP told ITV that "it feels like they don't care about using the poor Palestinian people as human shields". "If this happened in Britian… I would do exactly like Israel is doing because they have got a right to exist [and have] got a right to defend themselves as a country", she added.
The Sheikh Hamad Hospital and the Indonesian Hospital in the Gaza Strip have also been used to hide Hamas' tunnel network and terror outposts.
Conservative MP Rob Butler in the House of Commons today said that "we know that Hamas hide behind human shields—including, shockingly, even in hospitals". He asked the Foreign, Commonwealth and Development Office how they are "working with partners on the ground in Gaza to ensure that aid gets to those who need it, including in hospitals, despite the barbarity and the barriers put in their way by Hamas".
CFI Officer Bob Blackman CBE MP noted that "Hamas have been caught out putting injured terrorists through the Rafah crossing into Egypt". In Foreign Office Minister Andrew Mitchell's response, he stated that "one reason why the Rafah crossing is so difficult is precisely because of the circumstances that [Bob Blackman CBE MP] described, with the misuse of the rules".
Minister for London convenes meeting with social media platforms to counter online hate
"We cannot allow social media to fuel hatred and discrimination", said Minister for London Paul Scully MP. Yesterday, the Minister brought social media platforms together with faith groups to discuss how they can tackle the harm caused by hatred online and division driven by malicious disinformation". CST, the Board of Deputies of British Jews and Antisemitism Policy Trust were present to discuss antisemitism, as well as Tell Mama UK to discuss anti-Muslim hatred. "Our ask is clear. Platforms must urgently do more to stop hateful content and illegal disinformation festering online", the MP added.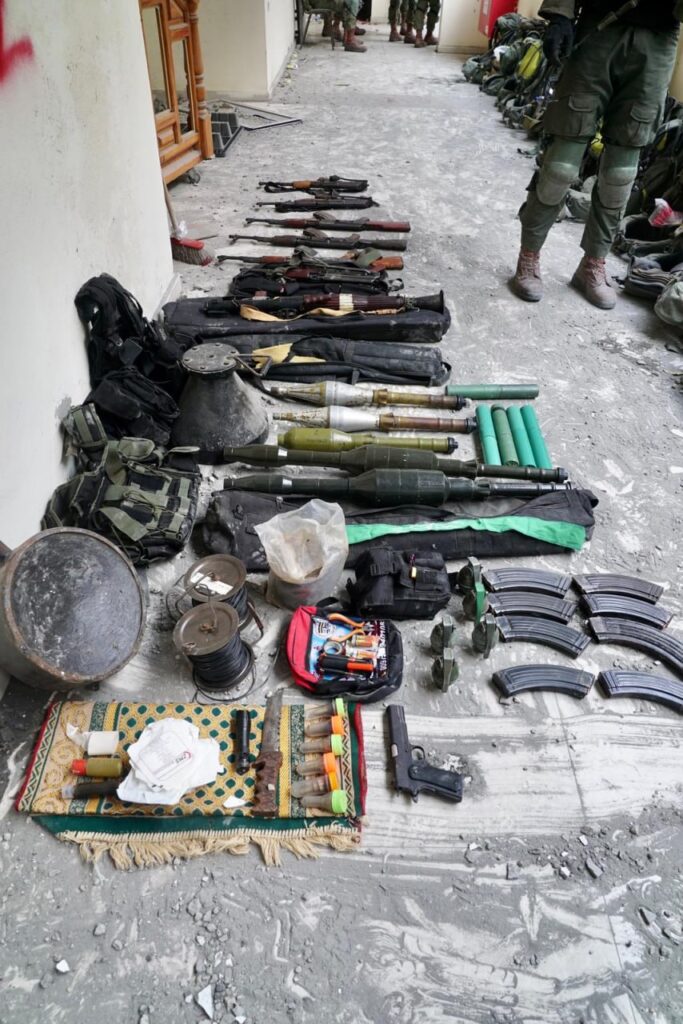 7,262 Israelis have been injured since 7th October, with 342 currently hospitalised.
The Barzilai Hospital in Ashkelon was hit for the third time since 7th October.
1493 grenades and explosives, 760 RPGs, 427 explosive belts, and 375 other weapons were found on Hamas terrorists in southern Israel after the massacre on 7th October.
Deputy Leader of Hamas' Political Wing, Moussa Abu Marzouk, falsely claimed on BBC Arabic that "women, children and civilians" were exempt from Hamas' deadly attack on 7th October. Mohamed el-Deif, leader of Hamas' Qassam Brigades "clearly told his fighters 'don't kill a woman, don't kill a child and don't kill an old man'" he said. Marzouk also said that Hamas' military wing "don't have to consult with the political leadership. There is no need", as they are one organisation.
33 soldiers have been killed in Gaza since the start of Israel's ground incursion.
Hamas' reason for war
Senior Hamas Official, Khalil al-Hayya told the New York Times that "Hamas' goal is not to run Gaza and to bring it water and electricity and such…This battle was not because we wanted fuel or labourers". In the war waged on 7th October due to Hamas' deadly massacre, Hamas "did not seek to improve the situation in Gaza. This battle is to completely overthrow the situation".
Hamas media consultant Taher El-Nounou added that "[he] hope[s] that the state of war with Israel will become permanent on all the borders, and that the Arab world will stand with us".
In a separate interview, Hamas official Osama Hamdan told Al-Liwaa newspaper said that Hamas would carry out 7th October again. The reason behind the attack was to prevent Israel from being a "natural entity" in the Middle East.
Israel's northern border; Hezbollah
Today, an anti-tank missile fired by Hezbollah injured two IDF soldiers in the Dovev area. Rockets were also fired towards the Shtula and Yiftah area in northern Israel. In response, the IDF responded with artillery shelling at the source of fire.
At 7pm this evening, unmanned aerial drones intruded Israeli airspace in Avivim, Baram, and Yiron. The aircrafts were intercepted, and the IDF responded with strikes in Southern Lebanon. Rockets have since been launched towards Israel by Hezbollah.
Last night, the IDF expanded the scope of their response to Hezbollah rockets and anti-tank missiles. The IDF attacked the areas of Marjayon, al-Khiyam, Al Nakura, and Aita El Sha'ab in Lebanon.
This evening, Israel's Mossad released a statement saying that they foiled a terror attack by Hezbollah "directed and financed by the Iranian reime" on Israeli and Jewish targets in Brazil. A spokesman for Mossad said that "Hezbollah and the Iranian regime continue to act around the world to attack Israeli, Jewish, and Western targets." "The Mossad acts and will continue to act to prevent these attempts in a variety of ways and in every place necessary".
The Mossad prevented this attack with co-operation from Brazilian authorities. Brazilian Federal Police have since made arrests of suspected members of Hezbollah planning terror activity in the country.

Hamas operating in hospitals
Discussing Hamas' takeover of the Indonesian Hospital in Beit Hanoun, Gaza, for terror purposes, Lt Col Ido told the Telegraph that Hamas "are firing on us from this hospital. So I think the world should understand what we are dealing with … they are terrorists".
The IDF are now operating inside Gaza City where the Al Shifa hospital is located. The hospital hides Hamas' headquarters underneath its medical facilities, with the terror group putting patients lives at risk daily.
As part of an investigation by Israel's Security Agency, the Shin Bet, they have uncovered evidence of Hamas using hospitals and ambulances for terror purposes after speaking to arrested Hamas terrorists. The investigation revealed that:
The Al-Qassam Brigades have their own ambulances located on base, deliberately resembling civilian ambulances to avoid detection.
Ambulances play a critical role during combat; evacuating fighters as well as transporting supplies, food, cargo, and weapons.
Hamas terrorists seek refuge in hospitals and schools as they know the IDF will not target civilian infrastructure.
Yesterday evening, the Hamas-run health ministry called on the UN and the International Committee of the Red Cross to "protect hospitals [and] ambulances, and [to stop] the Israeli threats to the health system and allow it to carry out its duties".
This evening, the IDF published a recording of a senior Hamas member discussing the use of "ambulances to transfer weapons and terrorist operatives".
Operation Swords of Iron
For the fourth day in a row, the IDF opened a humanitarian corridor for Palestinian civilians to evacuate the north of the Gaza Strip. Since the corridor has opened, 900,000 civilians have passed through to get to the South. Today, the corridor was open for five hours to ensure civilians could evacuate to safety.
Over 760 trucks have entered Gaza from the Rafah crossing, delivering more than 1.15 million litres of water, 3,000 tons of food, 1,720 tons of medical supplies, 600 tons of equipment for temporary shelter, and clothing.
130 underground tunnel shafts have been destroyed by the IDF so far since the beginning of their ground incursion 10 days ago.
The IDF also uncovered a tunnel opening and weapons warehouse next to a university in the Gaza Strip. The warehouse held chemicals, RPGs and explosives.
A school was also used as a rocket launch site and base for terror activity. During an IDF raid, troops from the 402nd Brigade found several rocket launchers and a large trove of other weapons on school grounds. They also killed a number of terrorists hiding on site.
An IDF Spokesperson said that "all of this is further evidence of the Hamas terrorist organisation's cynical use of facilities and the civilian population as a human shield for the terrorist organisation's needs".
In an overnight strike the IDF killed Muhsin Abu Zina, head of Hamas' "industries and weaponry", responsible for weapon production.
The IDF has mobilised the entirety of its artillery force for the first time since the Yom Kippur War, 1973.
Hamas' Al Qassam Brigades claimed they destroyed 10 Merkava tanks and 2 APCs today as well as a number of other military vehicles. In a statement, Hamas' military-spokesman claimed the complete or partial destruction of 136 Israeli military vehicles since the beginning of Israel's ground incursion.