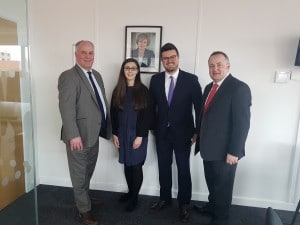 This week, CFI visited the Welsh Assembly in Cardiff and met with the Leader of the Welsh Conservatives, Andrew RT Davies AM.
CFI Executive Director James Gurd and Parliamentary Manager Elkie Myers were hosted in the Welsh capital by Shadow Secretary for Education and Children, Darren Millar AM, who led CFI's first delegation to Israel and the West Bank with Welsh Conservatives in August 2017.
Mr Davies and Mr Millar underlined the support for Israel among Conservative Assembly Members, and welcomed recent visits to Wales from Israeli Ambassador to the UK, H.E. Mark Regev. They highlighted the success of a celebratory event this month for Israel's 70th birthday, which was attended by numerous Assembly Members.
During the visit, CFI joined Conservative Assembly Members and staff for a reunion dinner, and discussed the latest issues affecting the region.
The itinerary for last year's trip featured a series of high-level meetings with Israeli politicians, journalists and academics, as well as strategic briefings with the Israel Defense Forces (IDF) on Israel's northern borders with Lebanon and Syria. The delegation also travelled to the West Bank, visiting the first Palestinian-planned city in Rawabi and meeting a PLO adviser in Ramallah.
At the time, Mr Millar reflected on the trip: "I have visited the Holy Land on a number of previous occasions but it is really exciting to share the experience with my fellow Conservative Assembly Members. We are lucky to have a fascinating week of sightseeing and meetings exploring ways to further existing political, cultural, economic and security ties with the Jewish state".
He added: "It is also an opportunity to show members that, contrary to some media reports on Israel, there is a very positive side to the country which does not always come across".
Read more about the delegation here.