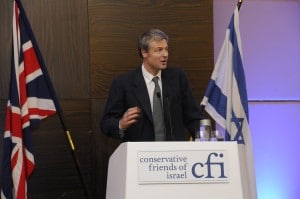 In interviews with the Jewish Chronicle and Jewish News this week, Conservative candidate for Mayor of London, Zac Goldsmith MP asserted that the Labour Party under Jeremy Corbyn's leadership represented a "real danger" to the UK and the Jewish community. The London Mayoral Election will be held on 5th May this year.
Mr Goldsmith said Mr Khan was "one of the key architects of what has happened to the Labour Party", having nominated Mr Corbyn to be leader and helped run former leader Ed Miliband's general election campaign last year.
Speaking about the current state of the Labour Party, Mr Goldsmith said: "It has become so aggressively extreme on so many different levels". He added: "To have a Leader of the Opposition, a potential Prime Minister-in-waiting, refer to Hezbollah, Hamas and the IRA as friends, is genuinely worrying".
Mr Goldsmith vowed that under his watch there would be "zero tolerance" to anything undermining the security of the Jewish community, in his interview with Jewish News.
The Conservative candidate also hailed the 'enduring' relationship between Britain's Jewish community and the Conservative Party, and condemned recent violence committed by anti-Israel activists as "completely unacceptable".
Mr Goldsmith described the incident at King's College London earlier this week in which a lecture was evacuated after a protest by anti-Israel activists turned violent, as "stomach-churning".
He told Jewish News: "It worries me that no one has to my knowledge been arrested or charged by the police".
Speaking to the Jewish Chronicle, he said: "What worries me is that this wasn't simply a matter of protesters expressing their views – which is legitimate in a democracy, we have freedom of speech – they crossed the line. Windows were broken. People were made to feel terrified. I've heard people make reference to what happened in Germany 70 years ago with shards of glass shattering and so on".
The Mayoral candidate asserted: "People should feel free and comfortable expressing their views, having debates, discussing the big issues of the day without the fear of having people smash their windows and hound them out of discussion. It's just completely unacceptable".
Speaking about the "almost inseparable" relationship between the Conservative Party and the Jewish community, Mr Goldsmith said: "I don't think anyone can be in any doubt about the Conservative Party being a friend of Israel. We have seen that through actual interventions – money for the Community Security Trust, a recognition of the threat the community faces – but it goes much deeper than that as well. There's a really solid, positive and good relationship there and it will endure".
On security, Mr Goldsmith pledged that as Mayor he would offer support to Londoners from all backgrounds: "People shouldn't feel threatened in London. We are one of the most diverse cities on earth. It's a harmonious city. Of course there are tensions that bubble up from time to time. Broadly speaking it's a model of working diversity, but that requires people of every community to feel safe at all times".
He continued: "There's a thread that runs through every community. You don't have a bespoke offer to this community and a bespoke offer for that community; you cannot be a mayor for London with a divisive approach. You have to speak to London as a whole. Londoners without any doubt are overwhelmingly worried about housing. It's the number one concern".
Click here to read Zac's interview with the Jewish Chronicle. Click here to read his interview with the Jewish News.