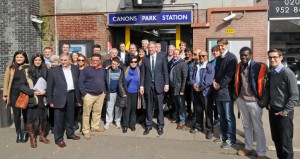 CFI led a highly successful campaign day in North London with Conservative Candidate for Mayor of London Zac Goldsmith on Sunday, ahead of the election on 5th May. Zac, CFI, and over 70 CFI activists packed a bus and mini-van to support Zac across North London, stopping at the constituencies of Harrow East, Hendon, and Finchley & Golders Green.
The battle bus made stops at the high-streets of Stanmore, Edgware, and Golders Green, where Zac met locals and business owners, before ending the tour at Jewish employment organisation Work Avenue in Finchley.
Zac and campaigners were also joined by MP for Finchley & Golders Green, Mike Freer, MP for Harrow East, Bob Blackman, and Dan Thomas, GLA Candidate for Barnet and Camden, as well as activists from the local Conservative associations.
Zac was enthusiastically received across North London, where he visited Edgware's kosher bakery Grodzinski, Carmelli's bakery in Golders Green, kosher takeaway shop Pita, Gold's factory outlet, Mendy's supermarket in Edgware, and Cream women's clothing store in Stanmore. He also visited charity shops including Norwood and All Aboard.
At Work Avenue in Finchley, Zac thanked CFI and activists for the "extraordinary turnout". Zac outlined his action plan for London, emphasising his plans to support police, deliver more homes, and cleaner air for Londoners. He asserted: "Promises before the election are cheap… what matters is delivery. I will deliver by working with this government on which London depends. I will deliver it based on my track record as a working MP – having made promises six years ago and kept those promises".
Speaking about CFI as an organisation, Zac said: "I went to the annual CFI lunch a few months ago and I can honestly say, I have never been in a room in my life where there has been so much energy, so much dynamism, so much brilliance. I was dazzled by it. It's a fighting force and we need it to be a fighting force".
CFI Executive Director, James Gurd said: "Zac has been a consistent and genuine supporter of London's Jewish community and Israel as seen by the incredible support he received in North London yesterday. A Labour win in London would give Jeremy Corbyn power in the world's greatest city; a dangerous experiment and one Londoners must strongly reject by backing Zac on the 5th May".
The campaign day received press coverage from numerous Jewish outlets, including the Jewish Chronicle, Jewish News, Jewish Tribune, and Hamodia.
We would like to thank everyone that joined us yesterday to support Zac. Click here to read more about Zac's Action Plan for London, and to sign up to support the campaign ahead of 5th May – only 17 days away!