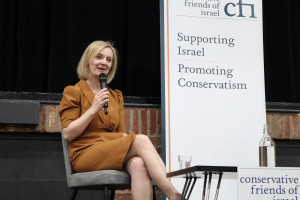 On Monday, CFI has hosted hustings with leadership candidate Rt. Hon. Liz Truss MP as she competes with Rt. Hon. Rishi Sunak MP to replace Boris Johnson as Prime Minister and Leader of the Conservative Party. CFI Honorary President Lord Polak CBE chaired the event which was followed by as many as 300 people in person and via a live stream. Click here to re-watch the hustings in full.
Ms Truss addressed CFI supporters, reaffirming her support for Israel and the Jewish community and answering questions on a wide range of issues, stating that she "would be absolutely resolute as Prime Minister in continuing to stand up for Israel, continuing to attack antisemitism both here in the UK and around the world".
"I think there is no greater friend to the UK than Israel", she said during the event adding that she sees Israel as "a key part of the network of liberty that we have been seeking to establish across the world. The Cabinet Member went on to say that "under my leadership, Israel will have no stauncher friend in the world. That's what I've done as Foreign Secretary and Trade Secretary. I don't just talk the talk – I walk the walk".
Liz Truss spoke of her efforts as Foreign Secretary to strengthen the UK-Israel relationship, especially through working with her counterpart and now-Prime Minister Yair Lapid to sign a new Strategic Agreement and in fighting anti-Israel bias at the UN. Rt. Hon Liz Truss MP stated: "Too many countries try to do Israel down at international fora. I've stood up against those countries and occasionally even gone against advice of my own Department. And other countries have followed our lead".
At the hustings, she expressed that she is "proud" to have visited Israel as well as to have worked so closely with Prime Minister Lapid on the agreement "to deepen our relationship in areas like security, areas like the economy but also working together in areas like science and technology… to solve the problems of the future". Ms Truss views Israel as a "true ally" that is an "absolutely vital part" and "a true beacon" of freedom and democracy.
Reiterating her pledge made at CFI's Reception at the 2021 Conservative Party Conference, she stated that the UK "cannot allow Iran to gain a nuclear weapon. I am absolutely clear about that".
Ms Truss conveyed that she believes that there is a "huge amount the UK can learn from Israel", listing Israel's "sheer level of innovation and fantastic technology". She added that she hopes the trade deal with Israel and "through the closer connections we're building in science and technology" will allow these things to "imbue itself into the British system".
During the Q&A section of the evening, Rt. Hon. Liz Truss MP committed to looking at the Palestinian Authority's practice of paying salaries to convicted terrorists and misuse of international aid, stated that she has "supported the National Holocaust Memorial project from the beginning and will look at proposed legislation and make sure we get it done" and said that she will continue funding to the CST (Community Security Trust).
Join us at CFI's upcoming hustings with Conservative Party Leadership candidate Rt. Hon Rishi Sunak MP on Monday 15th August, 5:15 pm to 7 pm, Central London
For security reasons the location for the event will be revealed once your RSVP is confirmed. Please RSVP to sarit@cfoi.co.uk as soon as possible. Please note that these hustings are only open to members of the Conservative Party and are non-transferable.
We look forward to seeing you there!
In case you missed it, you can read the personal letters the two candidates wrote to CFI's supporters here.